Services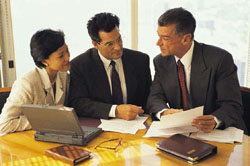 Broker/Dealer - As a Broker/Dealer, PTS Brokerage, LLC has relationships with many different firms so we can compare different products to provide you with multiple options that best serve your needs.

Financial Planning - Whether you need a multi-dimensional approach to financial planning or a more concentrated focus for your planning needs, PTS Brokerage, LLC provides a wide array of financial planning services.

While developing a customized financial program, we will walk you through a step-by-step process that will help make you feel confident in your decisions.

Once your goals have been established, we will customize appropriate strategies to suit your vision and objectives. We can help you execute a sound financial program utilizing the following products and services:
College Planning

Estate Conservation

Insurance and Annuity Products

Investment Management

Retirement Strategies

Tax Management
Insurance Brokerage - Our insurance brokerage services give us access to a broad range of quality products as well as competitive pricing options for our clients.

Investment Advisory - For clients whose portfolio warrants or demands more personalized attention, PTS Brokerage, LLC provides Investment Advisory services. Through this service, we provide ongoing monitoring of portfolio performance for clients.